When planning an excursion on the weekend or going camping with family members, one very important thing to consider is how to ensure a stable and clean energy supply. And this will be what Mietubl's new product collections bring you - clean, reusable energy that keep electronic devices running for hours—or even days and a better outdoor experience.
MTB-OD03 portable power station
As a high-power outdoor power supply, MTB-OD03 has an impressive 135000mAh capacity and 220V output. The power station supports wide array of ports like USB, AC inverter and DC output. Including a three-pin AC inverter jack, 3 DC port, 3 USB ports, 1 PD 25W fast charging port and a car charging port. Each interface is control by an independent switch. Allowing you to charge a variety of gadgets ranging like coffee machines, mini refrigerators, projectors, mobile phones, laptops, drones and digital cameras.
MTB-OD03 outdoor power supply also takes into account to be small and easy to carry. The shell is made of spray paint metal, and the top features a hidden handle design, which can be pulled up from both sides and easily lifted with one hand. Weight only 8.7kg, it is effortless for an adult to carry.
Considering the variability of the environment, the MTB-OD03 outdoor power station built-in intelligent battery management system, that guarantee the stable supply of power no matter it is a low temperature environment as minus 20°C or a high temperature environment above 60°C.
Heat dissipation sockets are feature on both sides. When temperature is rising fast, the heat dissipation system will automatically start to avoid heat accumulation during long-term use.
MTB-OD02 Power station
As a lightweight outdoor power supply, MTB-OD02 finds a balance between power capacity and size. It has a large power of 84000 mAh and a stable output power of 300W.
MTB-OD0 has a tough exterior, a highly portable design, the shell adopts a black spray paint metal, that can not only better protect the battery, but also shield the radiation generated during operation. The compact design is convenient to be kept without taking up space. It would be a smart addition to the travel bucket list.
MTB-OD02 has multiple output ports, including two international three-pin sockets compatible with American standard plugs, French standard plugs, British standard plugs and Korean standard plugs, 1 QC3.0 fast charging port, 1 USB output port, 1 PD charging and 1 DC adapter interface, up to 7 devices can be charged at the same time.
There is an easy-to-read screen, which shows input/output wattage and how much power is left in reserve.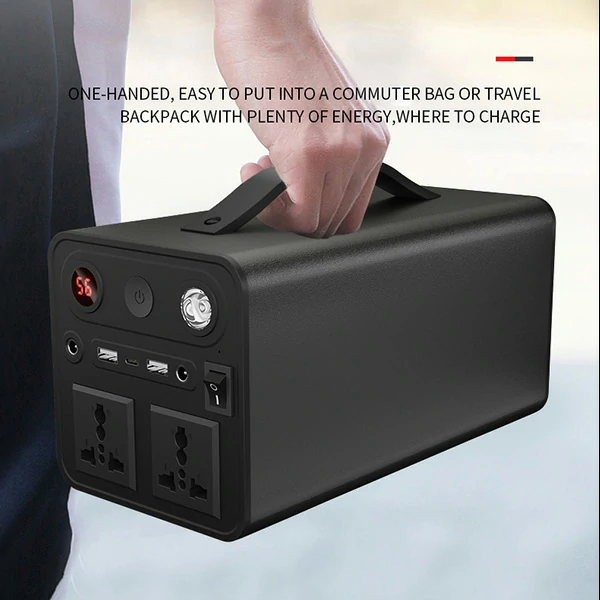 No need to worry about charging, MTB-OD02 uses a DC charging interface, can be fully charged in 3.5 hours.
MTB-OD01 Portable power supply
When it comes to MTB-OD01, the product trades power capacity for space, You lose some of the power and get with larger picks. If taking portability into the first place, MTB-OD01 will undoubtedly be the best choice. The compact size is only 190mm x 115mm x 90mm, it is not bulky compared to ordinary power banks.
It might not be able to power your highest-wattage appliances, but is almost as good and provide plenty of charging options for a wide array of devices through 1 international AC output socket, 1 DC port, 1 QC3 .0 fast charging port and 1 USB charging interface.
The small size does not prevent it from charging drones, digital cameras, laptops, coffee machines, projectors and other equipment, solving the problems of power consumption.
Besides, the MTB-OD01 outdoor power supply is also equipped with a digital display screen, which is convenient for checking the remaining power. The built-in LED lighting supports a variety of lighting modes. Which can be used for outdoor lighting, or drive animals away, or send signal indicators in emergency conditions
The outdoor power supply can not only bring better experience when holiday travelling, jungle camping, photography and aerial photography, it is also perfect as an emergency power supply for household use, that is what Mietubl have been working on ——Make It Easier To Use, Better Life.