We have always being valued all intellectual property rights got by third-party, also work hard to protect our intellectual property rights. Thanks to everyone's hard work, The trademark of Mietubl was approved in Egypt recently. The registration number is No.397043 at class 09.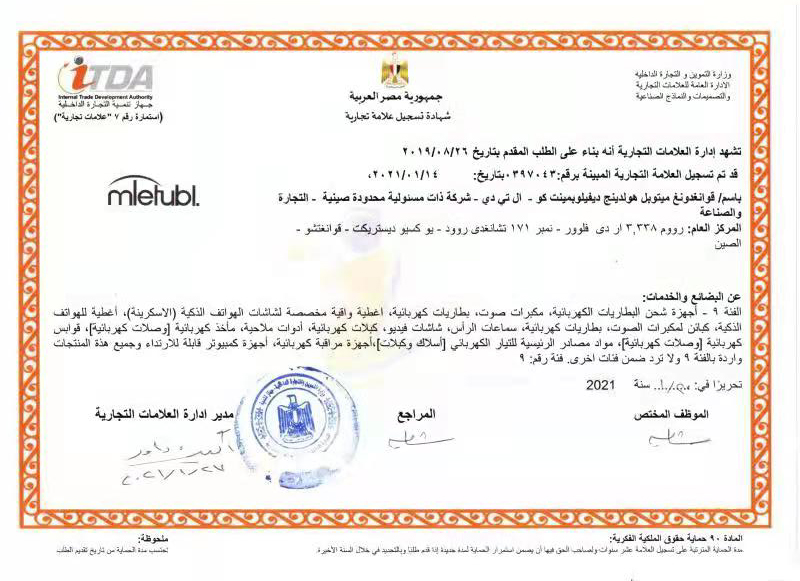 Since the establishment of the brand. We have attached great importance to build the Mietubl brand. After more than 20 years of work in the industry, Mietubl's products have covered many countries around the world, and our products have reached more and more consumers. And also faces more needs for brand protection. As an intangible asset of an enterprise, a trademark is invaluable for an enterprise. It can be used to distinguish the sources of different goods or services. It not only represents the image of the enterprise, but also an important symbol of trust for customers. The higher the reputation of the corporate brand, the higher the value of its brand.

Although the contents of trademark laws around the world are not the same, they all provide for legal protection of the ownership of registered trademarks. So far by now, the Mietubl trademark has been recognized and protected by the European Union, the United States, Russia, Brazil, Mexico, Turkey, Myanmar, Indonesia and other countries. With the increase in the popularity of Mietubl's products in markets, this trademark registration is also to protect Mietubl's market in Egypt in advance, and provide stable support for our business growth.